Wound Rotor Motor 13.8 KV 3500 HP
Another successful startup of the Wound Rotor Motor 3500 HP 13.8 KV chiller for Cornell University. Below is the picture of the 13.8 KV unit before shipping from the factory. It should be noted that we provided the resistor and a PLC to control the timing of shorting the resistor during the ramping. Cornell University has a very sophisticated chiller system for chilled water for the entire campus. Instead of using water towers – Cornell uses a heat exchanger from a nearby river. The University was very concerned with the starting current from wound rotor motor. The University was extremely happy with the Soft Start as the Wound Rotor motor successfully started at 2.5 times current in about 14 seconds.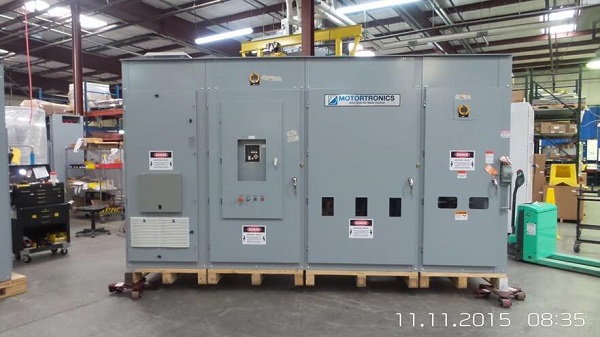 The Wound Rotor Control
The Wound Rotor Motor is controlled by our PLC which senses the voltage on the rotor's resistor and adjusts the closing of the shorting contactor. The PLC activates the shorting contactor during the ramping. The resistor voltage is feedback to the PLC to sense when the motor is at about 60% speed and once the voltage on the rotor resistor reaches a the level the contactors pulled in. The entire event is extremely smooth and done under full control of current limit or the power ramp. A picture of the motor is below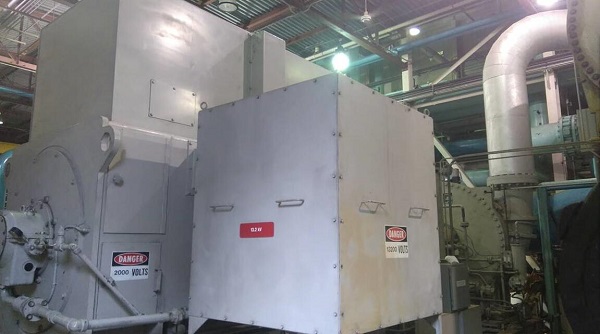 Works on a Generator
Cornell University has two buses one from the local utility feed picture attached and one from a diesel generator. The MVC functions beautifully on the diesel generator. The generator wobbled slightly during the acceleration but the MVC tracts the generator and provided a very smooth and controlled acceleration.
Bus 1 and 2